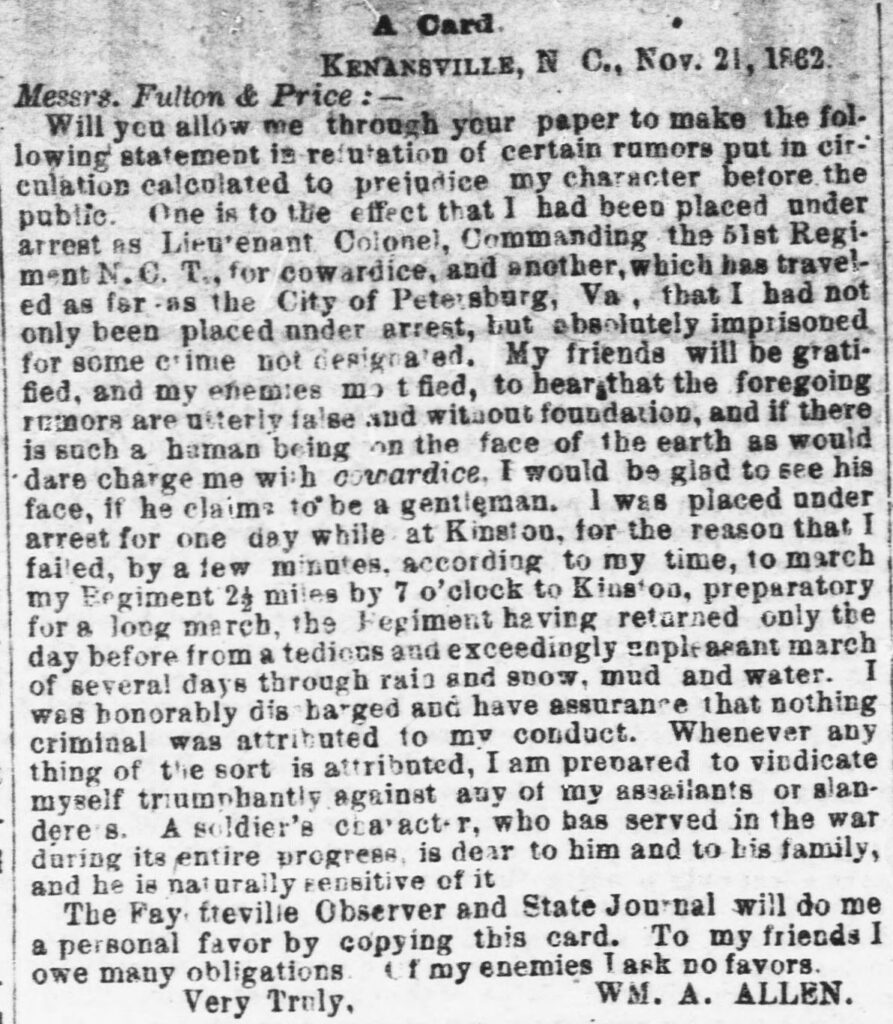 William Anderson Allen was born on April 29, 1825 in Wake County. His family were long-time farmers in Wake County. Allen grew up on his father's farm and attended Wake Forest as a young man. He earned a law degree and was elected to the House of Commons shortly after his graduation.
After serving one term in the legislature, Allen moved to Kenansville, where he practiced law with William J. Houston. (Note: Houston was the older brother of Lt. Hiram Houston, Company C, 51st North Carolina and the cousin of Captain Samuel Stanford, commander of Company C). The two attorneys had a successful practice until the outbreak of war in 1861. During this period, Allen served as County Solicitor and was an elector in the 1860 election, stumping for John C. Breckinridge.
On April 15, 1861, Allen enlisted in the Duplin Rifles, a local infantry company. A week later, he was elected 2nd Lieutenant of the company. In May, the Rifles were mustered into State service as Company C, 2nd North Carolina Volunteers and sent to Norfolk, Virginia. The company had enlisted for only six months, and in November, Allen mustered out and returned home.
The next spring, Allen received a Captain's appointment from the State and raised an infantry company of his own. The company was assigned to the 51st North Carolina in April, and Captain Allen was elected Lieutenant Colonel of the regiment when it organized on April 30, 1862.
The regiment's commander, Colonel John Cantwell, resigned in October 1862, and Allen assumed command of the regiment. His command did not last long. In December, Allen had an intoxicated clash with the regiment's major (see "Feuding in the Officers' Ranks"). Facing court-martial, he resigned on Janury 19, 1863, and retuned home.
Back in Kenansville, William Allen resumed his law practice and served as major of the 7th Battalion Home Guards and later the 3rd Regiment Home Guards. After the war, Allen was elected to several terms in the State Senate. He died in Goldsboro on February 23, 1884, of heart disease.
Allen had two sons, Oliver and William R., who followed him into the law. Both became judges. Oliver served many years as a Superior Court judge. William R. was eventually appointed to the North Carolina Supreme Court.
---
Judge Frank A. Daniels, writing about the people of Duplin County, referred to them as "a religious people, among whom skepticism and infidelity were almost unknown. They loved freedom, detested oppression, and were always ready to fight for their convictions." The judge commented that Duplin's residents "were genuine North Carolinians, with many of the virtues and some of the faults that have appertained to this separate and distinct aggregation of the human family. They made their own wine and brandy, and some of them partook, at times, too freely of the products of their vineyards and orchards." William Anderson Allen certainly seemed to fit this description of a Tar Heel.
Sources
William A. Allen service record, available on this website.
McGowan, Faison Wells and Pearl Canady McGown, eds. Flashes of Duplin's History and Government. (Raleigh: Edwards and Broughton Co., 1971) 408-409.
"Presentation of the Portrait of the Late Associate Justice of the Supreme Court William Reynolds Allen" by the Honorable Frank A. Daniels, 6. Sept. 1922.
Copyright © 2021 – 2023 by Kirk Ward. All rights reserved.