Private John Green Hall enlisted in Company C, 35th Regiment NCT on September 12, 1861. The 22-year-old farmer served with the Thirty-Fifth until May 31, 1864, when he transferred to Company G, 51st North Carolina. Just a few weeks after transferring to the Fifty-First, Hall was severely wounded in the shoulder. He attempted to get transferred to the Invalid Corps, but the Confederate War Department forced him to return to duty in January, 1865.
This page contains transcripts of four letters. The transcripts are "true;" they are exact renderings of the physical letters except page width. The original letters are housed at the North Carolina State Archives, Private Collections, PC.551, W. P. Hall Collection.
May 20, 1864: letter from Drewry's Bluff
John G. Hall to William P. Hall, May 20, 1864: Letter from Drewry's Bluff
Intrenchments near James River
May 20th/64
Dear Father I seat myself this morning to try and write you a few lines to let you know I am still in the land of the living we have had awful times out hear with the yankees last saturday we had just got in the breastworks at druys bluff when we had just taken our position we had skermishers put out in our rear before they had deployed them out the the yankees charged on them and they ran in to the breastworks and before they got to the breastworks the yankees were in fifty yards of the breastworks coming with a yell we changed sids with the breastworks and gave them the best we had in our enfields and they halted and gave us a heavy fier for a while when we repulsed them our company suffered very bad much we lost three killed and too wounded I will give you there names Liutenant Keelly[1] got his leg broke and Lieutenant Ray[2] was shot through the leg I recon he wont half to have his leg cut off Lieutenant Keelly had his leg taken off Sargent Patterson[3] was killed and John A. G. Johnson[4] was killed and Nathaniel Morris[5] was killed and Duncan McDonald[6] was wounded in the hips they are skermishing very heavy now on our right I don't know what moment we will be attacted we are looking for them every moment I cant half write in such place as this I saw Marsden[7] and William day before yesterday they boath came through safe so far Give my love to mother and all the children and ask them all to write I wrot you a letter when we were leaveing Kinston[8] I dont no whither you got it or not I want you to write soon as you get this and let me no whither you got it or not I havent got a letter from you since the 25th of April we havent had a change of clothing since the fight at Plymouth[9] I dont no when we will get our clothing we are just as dirty humes as ever you saw we have the yankees under shelter of there gunboats and there they stay they have been shelling us for the last too or three days they are skirmishing very heavy now we are in our intrenchments now waiting for them well father I must bid you adue for the time Joe McArthur[10] is wounded and missing his company dont no whither the yankees has him or not General Ransom[11] is wounded in the arm I hope he will recover soon again Colonel Clark[12] of the 24th Regt is wounded we lost agood many men in this fight the yankees got one line of our breastworks and we had to charge them out and in the charge we lost agood many men they flanked us several times some of our men got in very clse contact with them some of our men nocked them down with there guns good by father write soon to your Son John G. Hall
[1] First Lieutenant Neill R. Kelly. Wounded in arm and breast on May 14, 1864; died of wounds on June 2, 1864 (North Carolina Troops Vol. 9, page 379).
[2] Second Lieutenant Malcolm Ray, Jr. Wounded in arm and breast on May 14, 1864; died of wounds on May 28, 1864 (NCT, 9, 380)
[3] Sergeant John A. Patterson. No records after July 1, 1863; died at Jackson Springs (NCT, 9, 386).
[4] Private John A. G. Johnson (NCT, 9, 383).
[5] Private Nathan Morris (NCT, 9, 385).
[6] Private D. C. McDonald (NCT, 9, 384).
[7] Sergeant Marsden King, Company G, 51st Regt NCT, John Hall's brother-in-law.
[8] The 35th North Carolina left Kinston on May 8, 1864.
[9] The 35th North Carolina was involved in the attack on Plymouth, NC April 17-20, 1864.
[10] Probably First Lieutenant Joseph McArthur, Company I, 51st Regiment NCT; wounded and captured at Drewry's Bluff on May 15, 1864.
[11] Brigadier General Matthew Ransom returned to duty before the war's end.
[12] Colonel William J. Clarke did not return to duty after being wounded at Drewry's Bluff.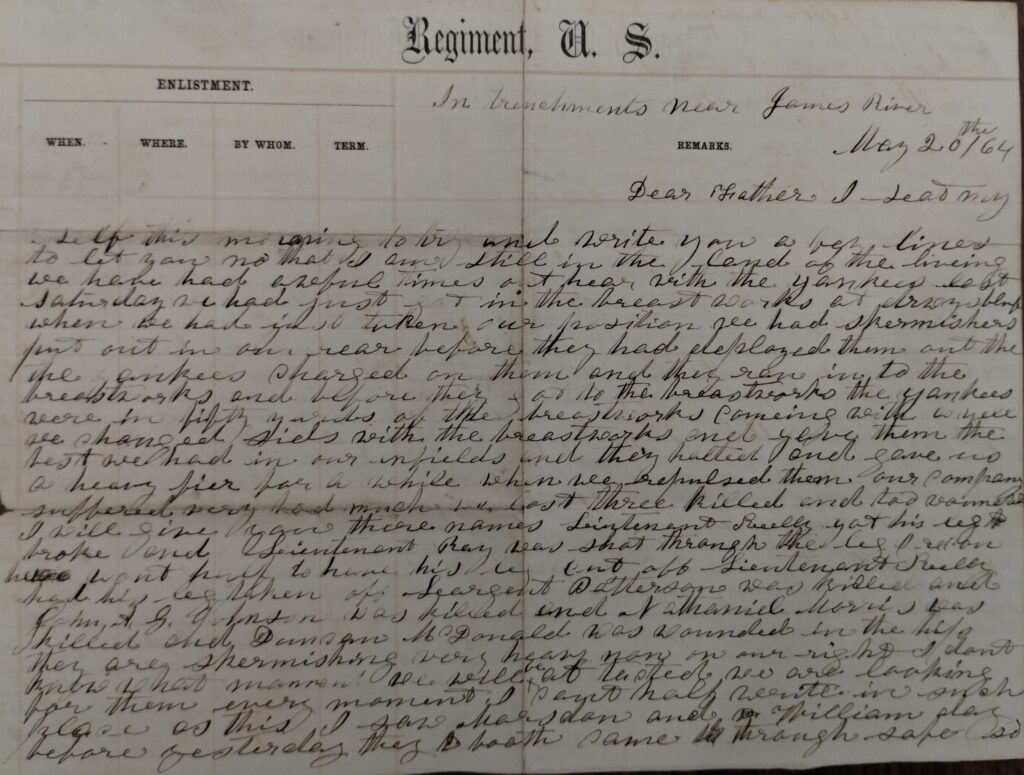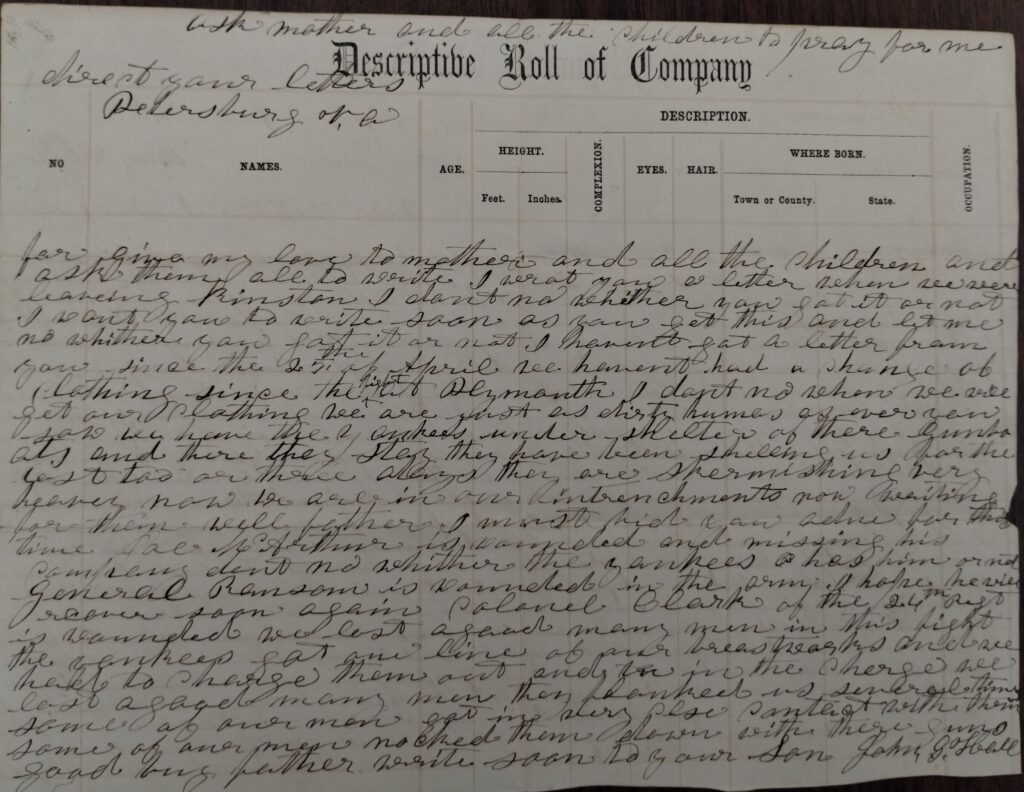 ---
John G. Hall to William P. Hall, June 3, 1864: Letter from Cold Harbor
Richmond, V. A Coaled Harbor
June 3rd//64
Dear Father
I seat myself this evening to try and write you a few lines to let you know that I am still in the land of the liveing we have seen dreadful times [ILLEGIBLE] hear since we have been hear we left Deroys bluff the last day of May we got hear that same evening and soon as we got hear they run us right in among the yankees we had a very hot ingagement for about an hour our Regiment was sent to the left of the brigade there was nothing on our right but some dismounted cavelry they shot a while and when they saw the enemy coming pretty large force they all run away that left our head right exposed to the enemy they were a flanking us on the right and left so we were compelled to fall back and in falling back we lost a good many killed and wounded we fell back about too or three hundred yards and formed a line of battle and stayed until the next morning then we fell back about fifty yards lower down the hill and formed again and commenced fixing us a little breast work we had nothing to work with but our baonets and hands we done the best we could until the evening we got us a right good breast work the yankees charged us about three or four Oclock in the evening and we ran them back about half a hour [ILLEGIBLE] they flanked our men on the left and came up in our rear they killed and took a good many of our men prisoner they came up in ten steps of us before we knew any thing about them they ordered us to lay down our arms and some did but we dident the 61st Regt reinforced us and we charged them back killing and wounding a great many of them I have escaped so far and Marsden* too he gave out in charging about so much I took his gun and helped him off of the field and he hasent been with us since I hear he is getting better He is with the doctor they relieved us yesterday morning and sent us a little in the rear where we are now they commenced early this morning a general engagement all along the lines and have been fighting all day and are still fighting and now it is three or four Oclock in the evening the yankees has charged our lines some five or six times they broke our line once but our men charged them back they say they are lying in files in front of our breast works ther minies and Bums are flying so over my head I cant write you any more this time so I will half to bid you adue for this time we are all under Lee at this time I think this will be one of the moast awful battles that has ever been fought in this war the hole of Grants armey is hear and all the Confederate army too I think I am in the 51rst Regt now and have been ever since the last of May we are at a place called coald harbor about ten of Richmond give my love and best respects to Mother and all the children and ask them all to a write and I want you to write soon as this comes to hand I have writen you some three or four letters and haven't received any answer to any of them yet I want you to write and let me no whither you got them or not write soon and when you write direct your letters to Richmond V. a. 51rst Regt Clingmans Brigade in care of Capt 51rst Regt Co. G.
I remain your dear and affectant Son John, G, Hall
* Sergeant Marsden King, John's brother-in-law; he returned to duty within days.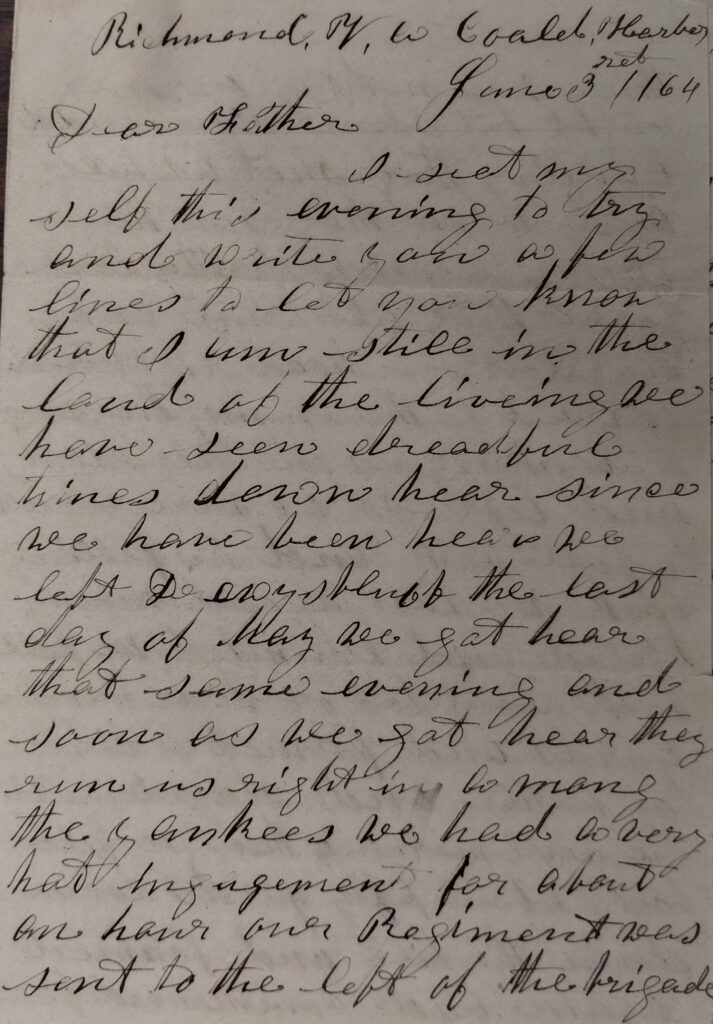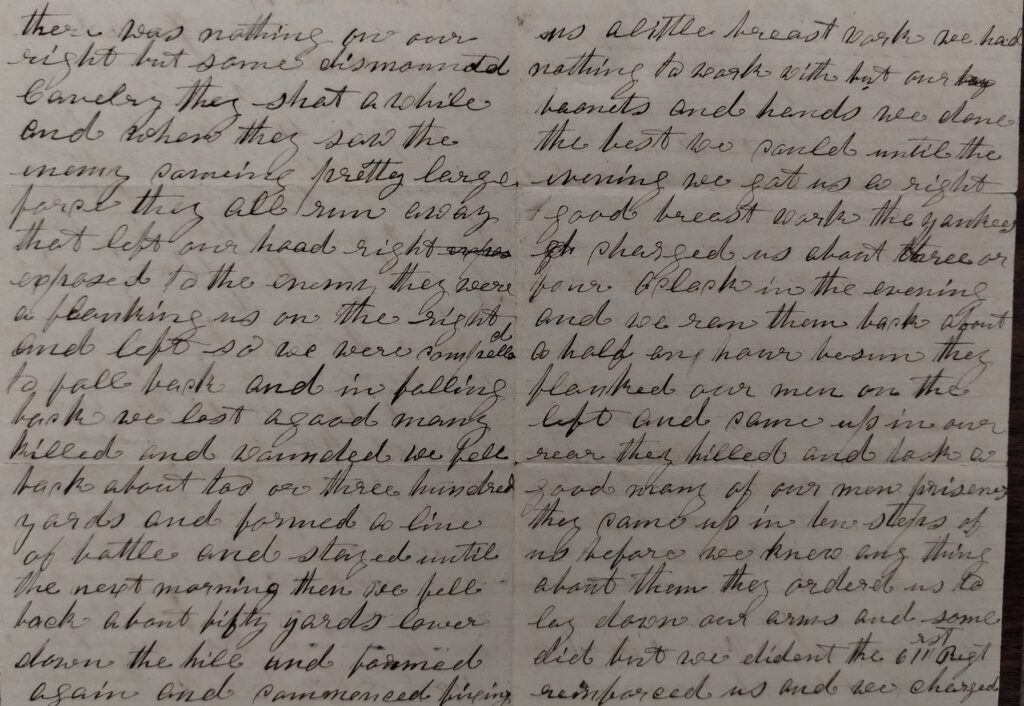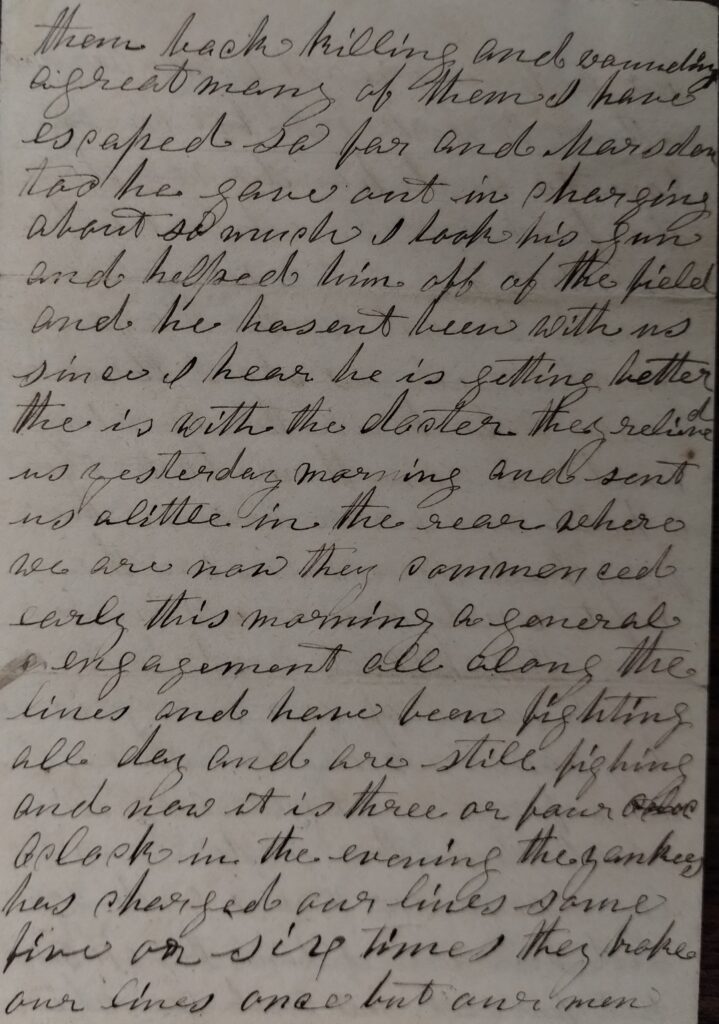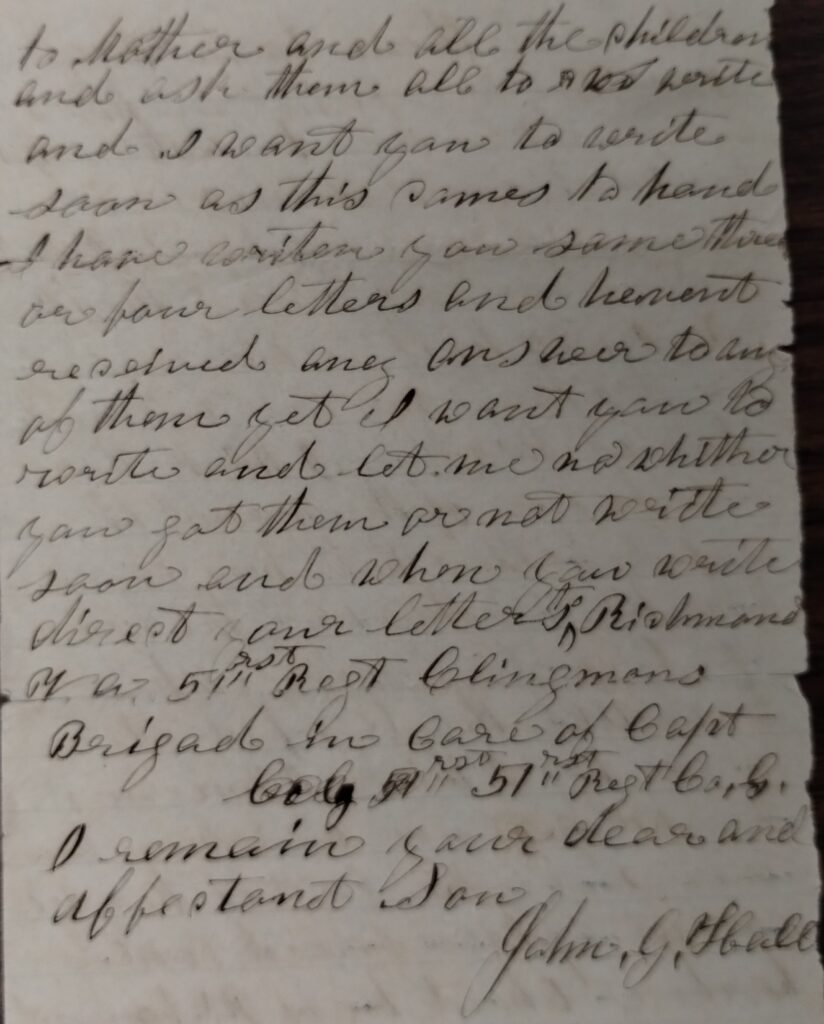 ---
Henry C. Rockwell to William P. Hall, July 26, 1864: Writing on Behalf of John G. Hall
Petersburg Va July 26th 1864
Mr. W. P. Hall
Dear Sir
I have written several letters to you about your son. He is a good young man and looks to me to help him all I can, I saw him this evening he is improving but quite low spirited he is anxious to see his Sister or some one from Home he thinks if he had some person to go with him he could get Home, if some of his relatives or friends could come to see him it would revive him up. He hays he gets but very few letters from home if some one cannot come to see him write immediately a letter from home revives a well soldier much more one who is sick or wounded and does not see any person he knows for perhaps days or weeks. Write to my care & I will see that he gets it very Respectfully Yours
H. C. Rockwell
A.Q.M. Clingmans Brigade, Hokes Division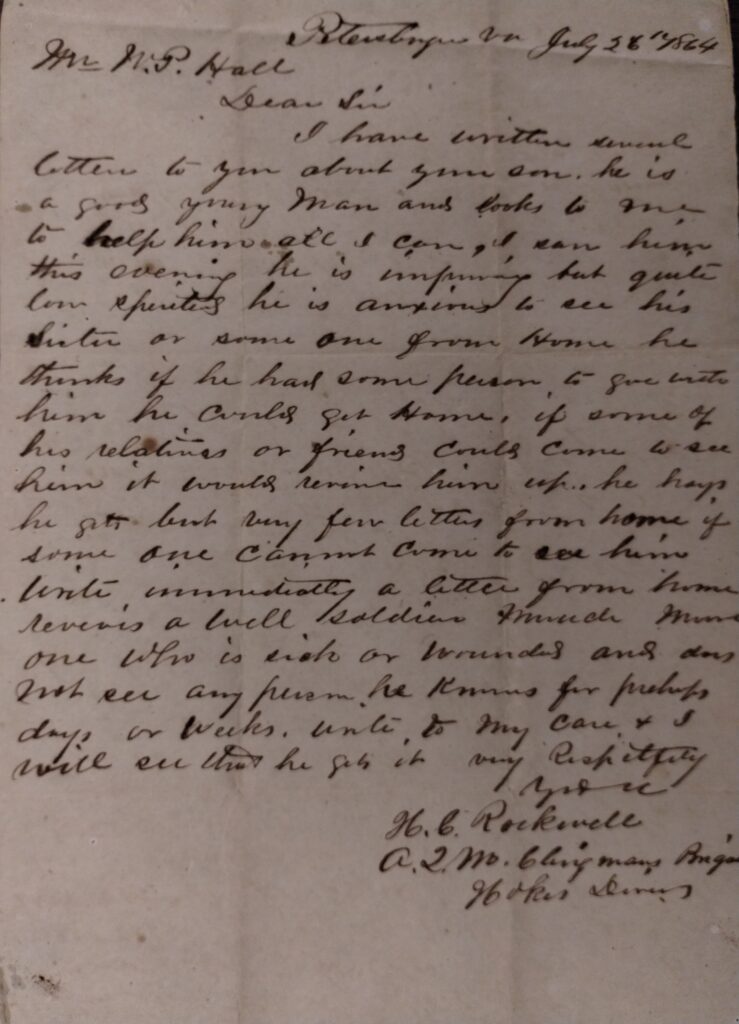 ---
John G. Hall to Jacob Evans, December 7, 1864: Request to Be Examined for Retirement
Co. "G," 51st Regt. N. C. Troops
near Richmond, Va.
Dec. 7th 1864.
Lt. J. A. Evans,
Lieutenant: _
Having been rendered totally unable to perform the duties of a soldier, on account of a gunshot wound rec'd in the right shoulder at Petersburg, Va, on the 17th of June, 1864, shattering the bones, and causing several pieces of them to come out, and the wound not being near healed up yet, rendering my right arm almost entirely useless. I now have the honor to apply for permission to appear before one of the Medical Examining Boards established by Law, for the purpose of availing myself of the benefit of an Act of Congress providing for an Invalid Corps.
Very respectfully yours, &c.,
John G. Hall
a Private of Co. "G," 51st Regt. N. C. T.
---
Co. "G," 51st Regt. N. C. T.,
Dec. 7th 1864.
_____
Hall, John G., a Private
_____
Making application to appear before one of the Medical Examining Boards for retirement.
_____
Respectfully forwarded approved. I certify that the applicant rec'd his wound at Petersburg, Va., on the 17th June, 1864, and has been permanently disabled ever since.
J. A. Evans
1st Lt. Comdg Co. "G," 51st Regt. N. C. T.
---
Indorsements
Dec 7th 1864
Respectfully forwarded approved.
Jas W Lippitt
Capt Cmdg Regt
_____
Hdqrs. Clingmans Brigade
Dec. 8th 1864
Res forwarded, approved.
Wm Devane
Lt. Col. Cmdg
_____
Hd Qu Hoke's Divis
Dec 8th 1864
Respy fowd appr
R F Hoke
Maj Genl
_____
Hd Qrt Army Corps
Dec 9, 1864
Res fowd appd
For Lt Genl Longstreet
O. Latrobe
AAG
_____
Hd. Qrs. ANV
11 Dec. 1864
Res. returned appd. The attention of the Examining Board is called to par. VII, G. O. No. 71, A & I. G. O. 1864.
If unfit for duty in this field but capable of performing duty in some department of the service, the Board will specify for what position he is best qualified. If he has heretofore been detached upon any light duty, the Board will state how and where employed, if his services are still desirable in such a position.
By order of Gen. Lee.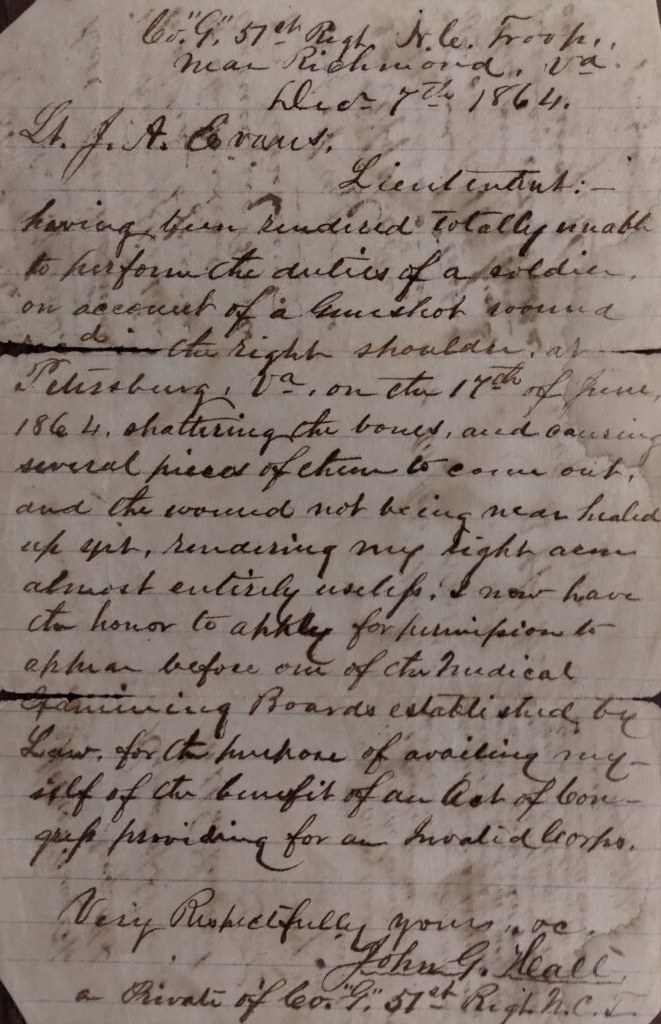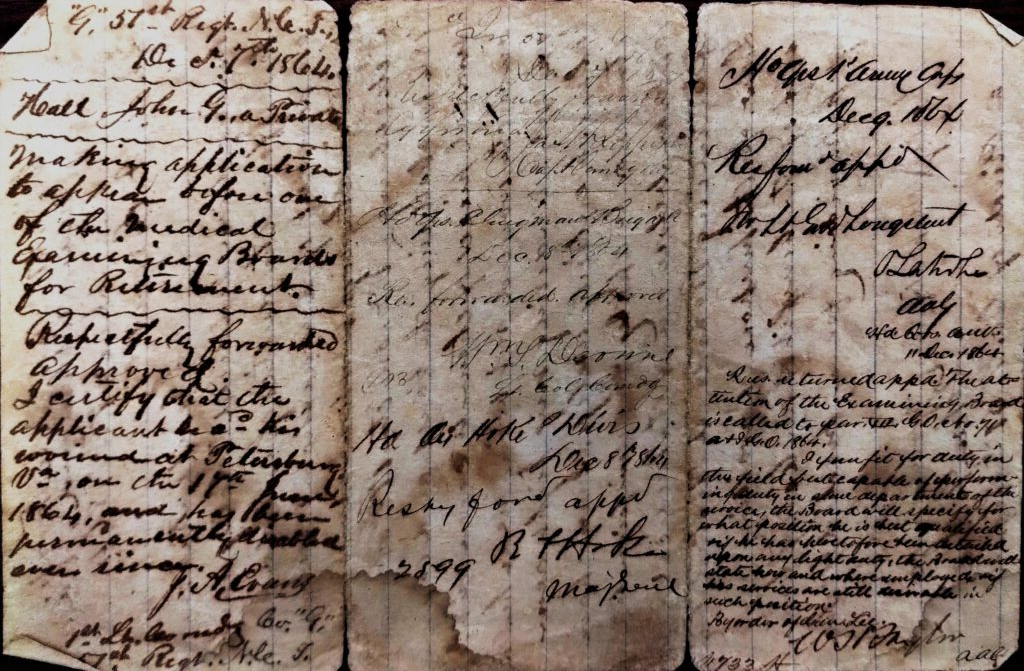 Copyright © 2021 – 2023 by Kirk Ward. All rights reserved.