The Honor of the State: The Story of the 51st North Carolina is now available on Amazon for $17.95. The book is a 281-page paperback that contains a complete history of the 51st Regiment North Carolina Troops. It contains details of the unit's organization, battles fought by the regiment, and anecdotes about individual soldiers. The book concludes with a full list of the men who served in the regiment. The Honor of the State is thoroughly researched and fully documented, making it a useful resource for anyone interested in learning about North Carolina's Civil War regiments.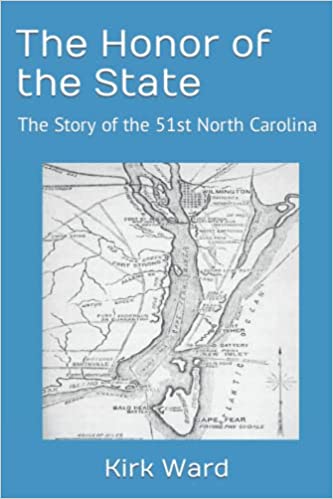 You can order the book at this link: The Honor of the State (Amazon).
Errata
My apologies, but since publishing The Honor of the State, I have discovered several errors in the book. The book first became available on Amazon on December 17, 2021. I ordered a copy for proofing. For an old guy like me, it's easier to proofread printed material. I discovered 38 spelling, grammar, and formatting errors. I corrected the errors and uploaded a new version to Amazon. The new version became available on December 25, 2021.
You can easily tell if you got one of the original prints. The quote at the top of page 15 has a dash ("-") at the end of the first line. That dash should be just before "Zebulon Vance" on the second line.
In early February 2022, while I was doing further research, I discovered four factual errors. These errors are much more serious than the ones I quickly corrected right after the book was published. If you ordered your book after February 15, 2022, the errors should have been corrected in your copy.
Page 33: Company D was mustered in at Raleigh, not Wilmington
Page 47: Luther Toon was 18 years old when he died, not 19.
Page 158: Lieutenant Joseph McArthur's name was withdrawn from consideration for a House of Commons seat when his friends learned that the lieutenant had been captured.
When General Clingman was wounded at Globe Tavern, Colonel McKethan assumed brigade command. Lieutenant Colonel Hobson, not Captain Lippitt, took over command of the 51st North Carolina (page 160). Lippitt assumed command of the regiment when Hobson was killed at Fort Harrison (footnote, page 165). These events caused the Chronology entry for August 19, 1864 to be inaccurate and the entry for September 30, 1864 to be incomplete (page 13).
Copyright © 2021/2022 by Kirk Ward. All rights reserved.