Cantwell's Company, Wilmington and Weldon Railroad Guards
On December 10, 1861, John L. Cantwell received a captain's appointment from the State of North Carolina. He resigned his position as commander of the 30th North Carolina Militia and began recruiting an infantry company. The company, referred to as Catwell's Company of Wilmington and Weldon Railroad Guards, was housed at the Marine Hospital in Wilmington.
From their base in Wilmington, the men were assigned to various points along the Wilmington & Weldon and Wilmington & Manchester Railroads. The soldiers were charged with guarding bridges and stations along the two lines. Their area of operations extended from Wilmington to the Virginia and South Carolina borders.
On January 20, 1862, Cantwell received his commission from the State when he provided a muster roll showing he had enough recruits to form an infantry company. Five days later, the company mustered into State service.
51st Regiment North Carolina Troops
In April 1862, the 51st North Carolina began organizing in Wilmington. Cantwell moved over to the new regiment and successfully campaigned to be elected colonel. Thirty-eight men from the Railroad Guards followed their captain to the new regiment.
The Power-of-Attorney
On July 14, 1862, the 37 former enlisted men (Edward Southerland had been appointed First Lieutenant of Company A) of the Wilmington Railroad Guards signed a document appointing Colonel Cantwell their attorney. Apparently, the men were owed back pay from their service with the Railroad Guards, and Cantwell was empowered to receive the money and distribute it to the soldiers.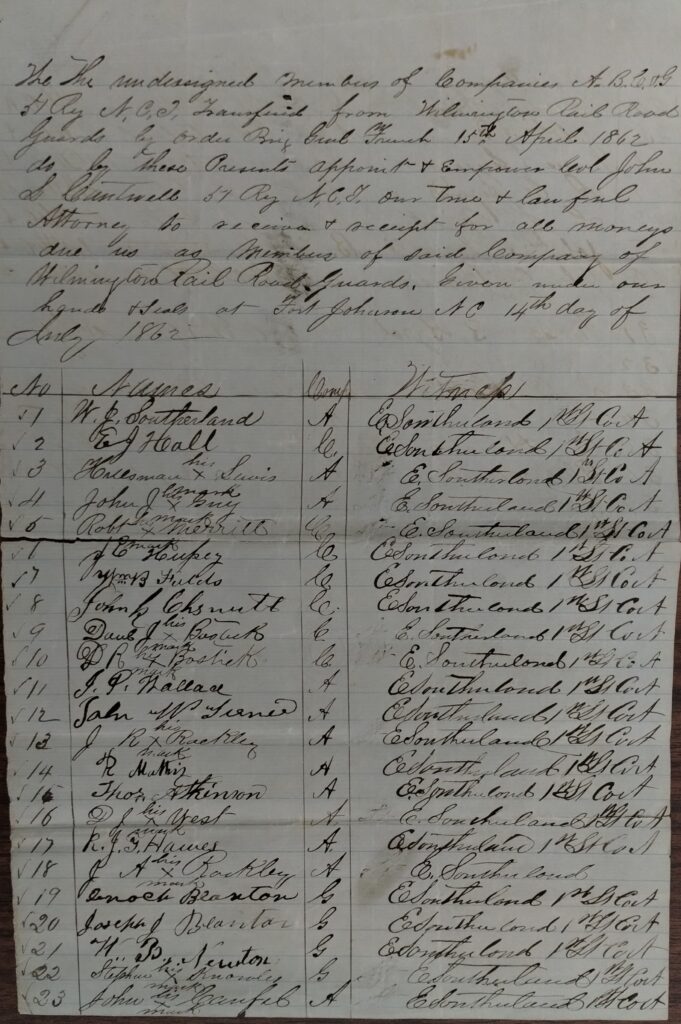 Copyright © 2021 – 2023 by Kirk Ward. All rights reserved.