Service Record
Lewis H. Smith enlisted in the Confederate Army on January 21, 1864, at Goldsboro. When Smith signed up, the 19-year-old farmer requested assignment to Company B, 51st Regiment North Carolina Troops. The new private made his way to Petersburg and reported for duty with his unit.
North Carolina Troops recounts his brief military career thusly: "Discharged on March 19, 1864, by reason of being "ill-grown and unhealthy." Paroled at Goldsboro on May 19, 1865." But the record in North Carolina Troops does not tell the full story. There was a lot more going on with Private Little.
First Enlistment
When Lewis Smith turned 18 years old in 1863, he thought he was required to enlist in the army. It's not clear if someone told him he had to join or if he reached this conclusion by himself. Regardless, Lewis felt legally obliged to enlist, even though he feared he was not healthy enough to serve.
Lewis turned to his 16-year-old brother, Amos J. Smith, to help resolve his dilemma. Amos, who was healthy and strong, would enlist in the place of his brother as a substitute, of sorts. Then when Lewis felt he was healthy enough, he would replace his younger brother. Amos traveled to Charleston and enrolled in Company B, 51st Regiment NCT on March 1, 1863.
By January 1864, Lewis was feeling well enough to serve in the army. He enlisted and joined Company B in Petersburg, where he expected to replace his younger brother. Now the Smith brothers ran into another problem. When Amos reported to Company B the previous year, the commander enrolled him in the army. Amos could not simply pack his gear and go home, and the army would hardly be willing to grant him a discharge.
Request for Discharge
Lewis thought the situation was unfair. In an attempt to do the right thing, he had sent his brother to fulfill his military obligation. Now the army had two Smith's filling one slot. Lewis wrote a letter to the Secretary of War, requesting a discharge.
In Private Smith's letter (see below), he explains the situation and requests a discharge. But he only asks for a temporary discharge. He promises to return to duty on December 20, 1864, Amos's 18th birthday. At that age, Amos would be eligible for the draft, and he would rightfully be in the army.
Lewis Smith submitted his request on March 7, 1864. The company commander, Captain Walter R. Bell, endorsed the letter, remarking that Lewis was "ill-grown and unhealthy." Amos, on the other hand, was "well-grown, a good soldier, and healthy." Bell further supports Lewis' case by stating, "…it would be for the public welfare, he [Lewis] is a farmer by occupation [and] has had four brothers in service besides himself…." [Note: Lewis' brothers, Albert O. Smith (killed 12/17/1862), Amos, and 1st Lieutenant Jesse T. Smith served in Company B.]
Captain Bell forwarded Private Smith's letter up the chain of command. Lieutenant-Colonel Hobson, commanding the 51st Regiment at the time, approved the request. Brigade commander, General Clingman, was absent from camp, and his AAG forwarded the letter to General George Pickett, division commander. Pickett approved and forwarded to army headquarters. Lewis Smith was granted a discharge on March 19, 1964, with the following endorsement: "on account of equity, justice & necessity till Dec 20/64 at which time he will rejoin his command."
Aftermath
Lewis returned home to Sampson County with a new uniform issued to him a few days before he left. True to his word, he enlisted again on December 20, 1864, and returned to Company B. In the interim period, between Lewis' resignation and his reenlistment, poor Amos was captured. He was taken prisoner on June 16, 1864, near Petersburg. He spent the rest of the war at Elmira prison camp and retuned home in July 1865.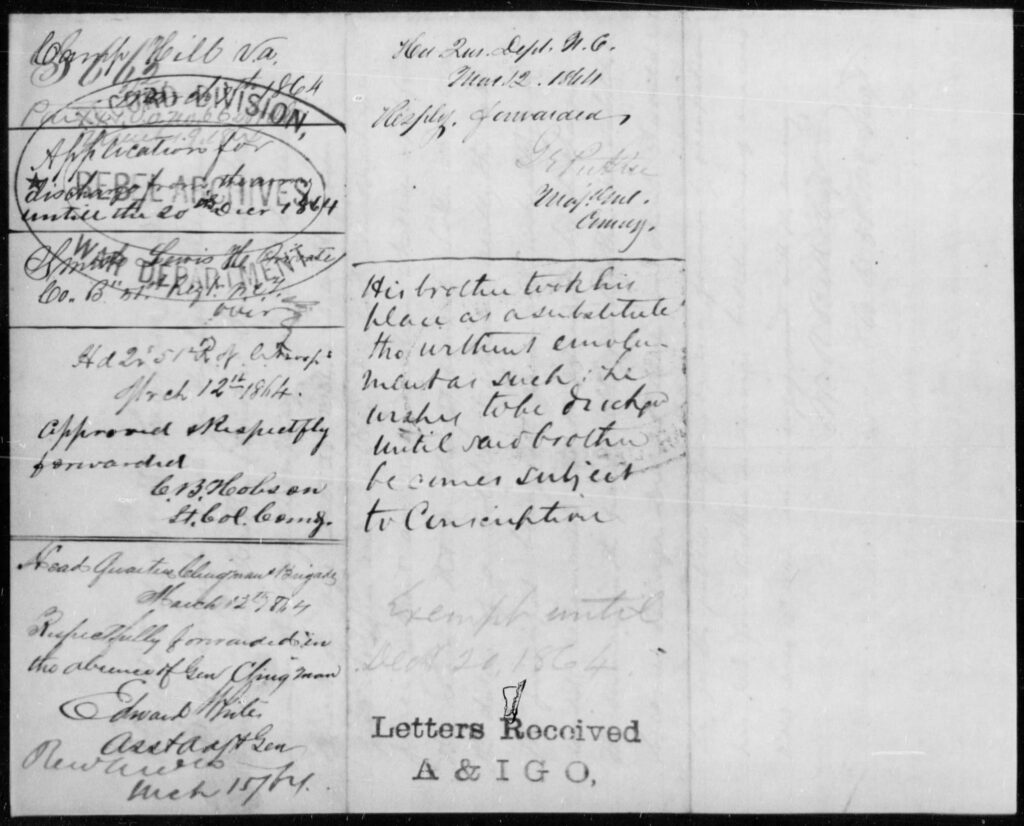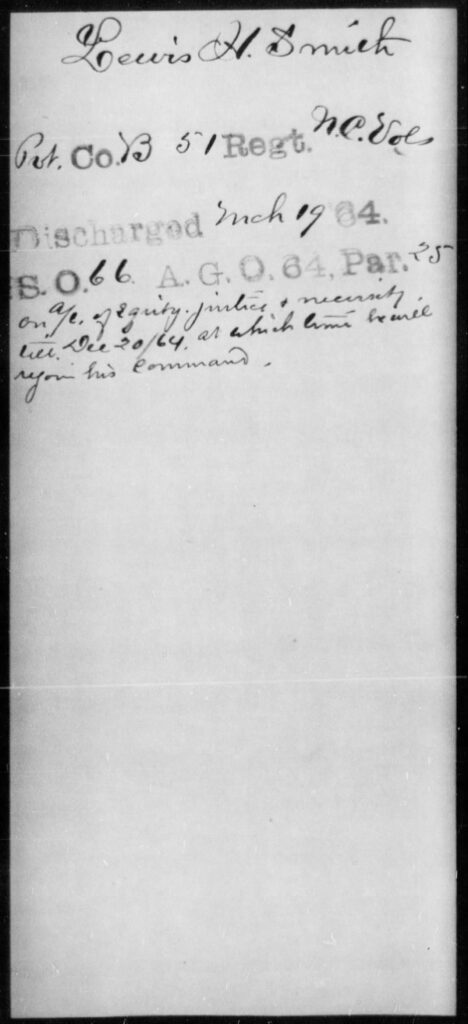 Copyright © 2021 – 2023 by Kirk Ward. All rights reserved.